Sensodyne
Rapid Relief Original
Clinically proven relief in just 60 seconds*

Long lasting protection with twice daily brushing*
Sensodyne Rapid Relief is clinically proven for fast relief of sensitivity*. Its unique formula quickly creates a barrier over sensitive areas of your teeth. It starts by providing relief from the first brush, and with every brush builds ongoing protection*.

*with twice daily brushing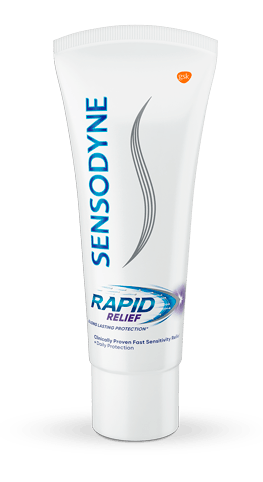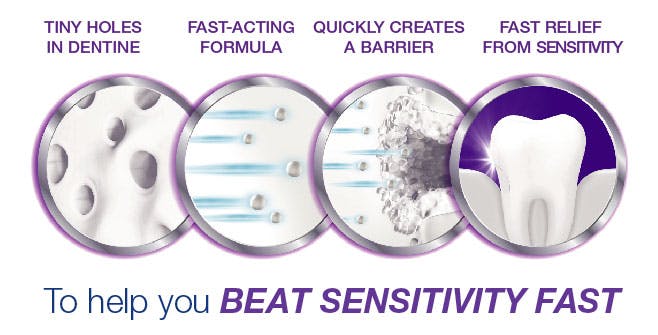 Sensodyne Rapid Relief contains a unique formulation that is engineered for speed, with a balance of ingredients that can beat sensitivity fast by quickly creating a barrier over exposed dentine.

Product Details
Ingredients
Glycerin, PEG-8, Hydrated Silica, Pentasodium Triphosphate, Aroma, Sodium Lauryl Sulfate, Titanium Dioxide, Carbomer, Sodium Saccharin, Stannous Fluoride, Cocamidopropyl Betaine, Sodium Fluoride, Limonene.
Contains Stannous Fluoride 0.454% w/w, Sodium Fluoride 0.0721% w/w (1450ppm Fluoride).

Directions
Brush twice a day and not more than three times. Minimize swallowing and spit out.
Warnings
Always follow the label.
Sensitive teeth may indicate an underlying problem that needs prompt care, if symptoms persist or worsen see your dentist.
Not for use by children under 12 years of age, unless on advice of a dentist or doctor.
If irritation occurs, discontinue use.
Keep out of reach of children.
Individual results may vary.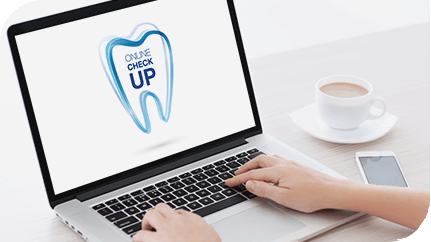 Take the Sensodyne
Online Check Up
Do hot, cold, and sugary foods sometimes cause sudden, sharp tooth discomfort? You may have tooth sensitivity. Take the Sensodyne Online Check Up to find out about sensitive teeth and the products that can help you.
Take the Sensodyne Online Check Up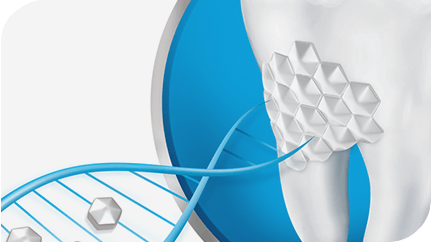 Sensodyne
Repair & Protect Deep Repair
Sensodyne Repair and Protect can help deep repair vulnerable areas that prone to sensitivity and forms a protective layer over the sensitive areas of the teeth. Brush twice a day for lasting sensitivity protection.